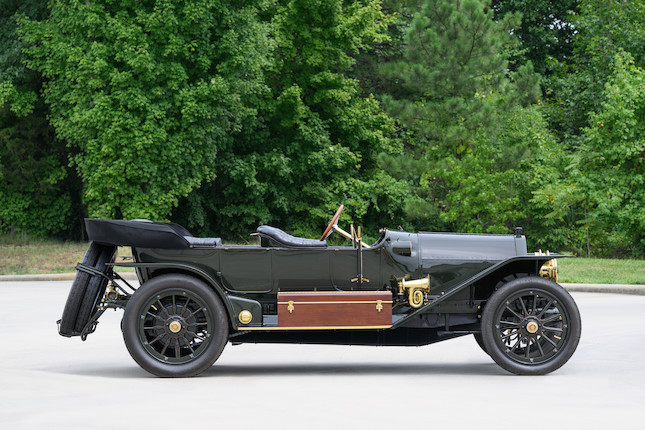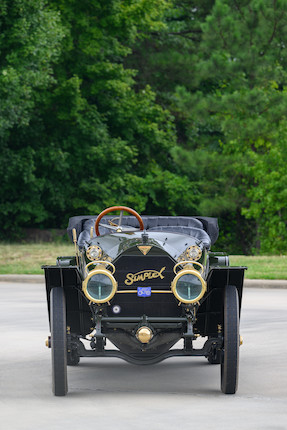 The Eleonora Sears Simplex Purchased new by Harold Vanderbilt for Eleonora Sears, Ex-Charles Chayne
1912 Simplex 50HP 5 Passenger Torpedo Tourer
27 January 2023, 10:00 MST
Scottsdale, The Westin Kierland Resort & Spa
Sold for US$4,845,000 inc. premium
Own a similar item?
Submit your item online for a free auction estimate.
How to sell
Looking for a similar item?
Our Collector Cars specialists can help you find a similar item at an auction or via a private sale.
Find your local specialist
Ask about this lot
Rupert Banner
VP, Business Development
Aleksandra Krypciak
Title Clerk & Senior Sale Coordinator
1912 Simplex 50HP 5 Passenger Torpedo Tourer
Coachwork by JM Quinby and Company

597.2ci T-Head, 4-Cylinder Engine (5.75" bore x 5.75" stroke)
50 horsepower ALAM rated
4-Speed Transaxle With 1.97:1 Final Drive by Dual Chains
Semi-Elliptic Leaf Spring Suspension
Inboard Transaxle Mounted Drum Brakes and Rear Axle Drum Brakes

*Unique example of the pinnacle of American pre-war sporting cars
*Owned for over 25 years by Eleonora Sears America's greatest pre-war sportswoman
*Matching numbers, dual-chain drive and desirable short-stroke specification
*Original coachwork with faultless, dramatic styling
*Performance surpassing most cars made decades later


SIMPLEX

The collector car hobby is now in its ninth or perhaps tenth decade with roots going back as early as the 1920s. Few cars have the distinction of being highly coveted for this entire period of time. Simplex without question is one of the few cars to have remained a great prize of collecting from day one to the present day. No car so completely embodies the romance and excitement of this period better than a Simplex. Possessing all the fleeting features of this charismatic era, massive four-cylinder, T-head engine, with power getting to the rear wheels via prodigious pair of chains all in a svelte and sporty package.

The Smith and Mabley Company's beginnings are in the importation of high-end European automobiles. S&M imported Panhard, Renault, Mors and most importantly Mercedes. S&M was the exclusive importer of Mercedes for the US market.

After a few years of importing the superb Mercedes products S&M developed their own Mercedes-like car but designed with uniquely American dimensions. S&M based much of the design around the Mercedes Simplex four-cylinder design — the world's finest automobile at the time. In 1908 Smith & Mabley would become the Simplex Automobile Company and focus exclusively on enormous displacement sporting cars. To power the Simplex an enlarged Mercedes type t-head engine of 597ci was designed. Simplex deviated from Mercedes by cleverly matched the bore and stroke at 5.75" to give the engine a combination of brute power and at a surprisingly wide RPM range. The cross flow, t-head design allowed Simplex to fit equally massive valves to aid the voluminous engine flow. Ignition was by Bosch twin-spark dual-magneto and carburetion by a Mercedes type unit by Newcomb. The huge cylinders were mated to a large aluminum crankcase and lubrication was a total loss with copious amounts of fresh oil supplied to the main bearings. S&M used the established high performance chassis configuration of midship mounted transaxle feeding power to the rear wheels through dual chains. This design reduced the cars unsprung weight and allowed for easy final-drive gear ratio changes. Placing the transaxle and brake weight more forward improved the cars balance and handling. Additionally this design allowed for separate braking system inboard at the transaxle as well as in the rear wheel drums helping keep the independent systems cool. This configuration since its development by Panhard et Levassor had become almost universally adopted for racing in this period.
The new 50 horse power Simplex was introduced to the public and despite its breathtaking price tag of $5750 they immediately found favor with sporting car enthusiasts. Unlike some of Simplex's competition the enormous engine was not designed to lug around heavy coachwork this car was designed from the ground up for driving performance. Simplex quickly cemented their reputation with success in motorsports. Unlike many builders Simplex competed with their standard production cars. Wining the Brighton Beach 24 hours and victories at Lowell and Fairmont all bolstered the Simplex reputation.. This was a race car for the street and few cars in the world could rival them for their shear performance.

Simplex offered the 50hp several attractive coachwork options for clients including the classic five-passenger toy tonneau and two passenger speedster by Holbrook. Customers could also specify unique coachwork designs by coach builders of their choosing as is the case with this magnificent Quinby example.

ELEONORA RANDOLF SEARS

Ms Sears born into wealthy family in 1881 would become renowned as one of the finest American sporting figures of the first half of the 20th century. Excelling most notably in international tennis, squash, show jumping, golf among others. She is considered one of the first female motorists in the US as one of the first woman to drive a racing car and the first Woman to contest a speeding ticket. She maintained her sporting prowess for decades even winning the national squash title in 1928 at age 47! She even remained active in competitive in squash at age 73.

She began her rise to high level tennis in 1904. She competed in every US tennis championship from 1911 to 1929 and was national doubles champion four time. A three-time competitor at Wimbledon and US Squash champion in 1928. She was not afraid of a public wager and embarked in a much publicized 47 mile walk from Newport, Rhode Island to Boston in 10.5 hours. She frequently caused trouble by wearing trousers and male riding apparel and pushed for allowing more equity in sports and society.

She was often in the spotlight of the gossip pages but caused a sensation when she became engaged to Harold Sterling Vanderbilt in 1911. Son of the pioneering motor racer and sportsman William Kissam Vanderbilt, Harold had a similar sporting flair. Most famous for his yacht racing success and ultimately defending the America's cup in Newport Rhode Island three times with the J class yachts Rainbow, Enterprise and Ranger. He maintained excellent taste in high performance motor cars and is remembered for his contribution to the popularity of contract bridge. He and Eleonora made a great celebrity couple with their seemingly compatible sporting interests. Mr Vanderbilt purchased Ms. Sears this Simplex motorcar as a gift for their engagement. Mr Vanderbilt was had several of his own Simplex motorcars including a spectacularly racy v-radiator equipped roadster. The engagement did not last but seemed to have a lasting impact on both. Harold would not marry for another 20 years and Eleonora would keep her beloved engagement gift for at least another 25 years.

THE MOTORCAR OFFERED

Ordered in 1911 this unique coachwork example is arguably the greatest survivor of the marque. Adorned in magnificent sporting coachwork by JM Quinby that is perfectly in harmony with the power and purpose of the Simplex chassis. The deep enveloping, cowl free from the bulk of a windshield with sleek built-in electric side lamps that also act as cockpit ventilators. The rakish fenders hint at the transitional nature of the car with their crisp flat lines and work perfectly with the innovative, torpedo bodywork. The wonderful wooden toolboxes were fitted from new, and the styling is further enhanced by the set of rear mounted spares. Having this sleek and light weight coachwork the Simplex was specified with ultra tall 1.97:1 final drive ratio allowing for 85mph at 1200rpm! There is nothing fussy about the final product pure, un-compromised style.

In 1939 Sears herself would drive the car to an early VMCCA at Raceland in Framingham Massachusetts. Ms Sears was awarded a beautiful silver trophy at the event which is still with the car. Original color films survive from this early antique car gathering. Around this time the cars ownership changed for the first time when Ms. Sears sold her beloved Simplex to VMMCA meter Sam Eliott.

Eventually the Simplex would find its way to the head of Buick and General Motors chief engineer Charles Chayne. A prolific engineer who developed countless products, Chayne was well known for his collection including the a Bugatti type 57S and most notably the Bugatti Type 41 "Royale" Weinberger roadster. Chayne had GM's full engineering capabilities at his disposal for his restorations. The best talents of GM had their way with Simplex and perfected the operation of the car to the highest standard. The engine was precession balanced and blue printed - to the finest possible standard. The brakes and the steering also received the full GM engineering attention. The Simplex steers light even when not moving and the brakes are shockingly powerful. The light steering and great cornering give enormous confidence during spirited driving. The electric starter installation is probably the crown jewell of the job - a discreet aircraft starter expertly mounted in place of the starting handle. The result is what most agree the finest driving Simplex, bar none.

Chayne would gradually disperse his collection many ending up in Museums - the Simplex at Brookline Massachusetts Museum of Transportation (now the Larz Anderson Auto Museum). Eventually the car was sold at auction to The Collings Foundation in the early 1980s. A short time later noted brass era collector Charles LeMaitre would acquire the car where it would reside for the next 20+ years. Of the more than 1000 antique cars Mr. Lemaitre would own this was the one he considers the finest. Mr. LeMaitre would use the car regularly and had the car fully restored starting in the mid 2000s. Trusting the Simplex to the capable hands of noted brass era restorer Fred Gonet in Proctorsville, Vermont. In this time the car was resprayed and new upholstery fitted. The wheels were rebuilt with new wood spokes and fellows. The mechanicals were fully refurbished while keeping the GM engineering that had been done under Chayne's restoration.

In 2013 the Sears Simplex was acquired by Seattle collector Craig McCaw. During this time he car was toured with and exhibited in the Simplex celebration at Pebble Beach. Eventually the car made it into the hands of the current owner a passionate collector with a diverse collection of world class automobiles. The Simplex is frequently used and always kept in "on the button" condition.

Cars of this quality rarely come to public auction. It has been nearly 17 years since an original bodied Simplex has been offered publicly. This car is among the finest antique cars in America and the opportunity to acquire something of this caliber is truly special.

Footnotes
◊ Special formalities are required to bid on this lot. Contact Client Services at +1 (323) 850 7500 or bids.us@bonhams.com at least 24 hours in advance of the auction for registration and bidding options.