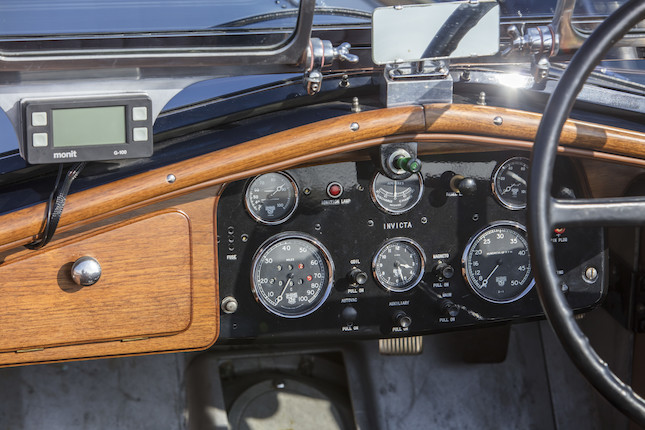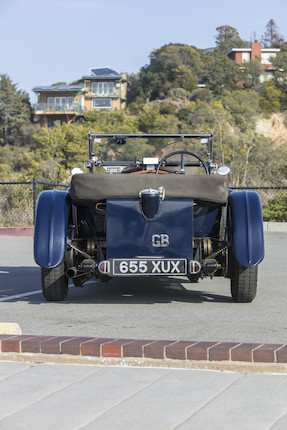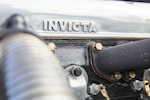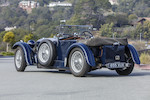 C 1936 Invicta 4½-Liter S-Type 'Low-Chassis' Continuation Tourer
27 January 2023, 10:00 MST
Scottsdale, The Westin Kierland Resort & Spa
Sold for US$290,000 inc. premium
Own a similar item?
Submit your item online for a free auction estimate.
How to sell
Looking for a similar item?
Our Collector Cars specialists can help you find a similar item at an auction or via a private sale.
Find your local specialist
Ask about this lot
Rupert Banner
VP, Business Development
C 1936 Invicta 4½-Liter S-Type 'Low-Chassis' Continuation Tourer
Chassis no. S314B
4 ½-Liter OHV Inline 6-Cylinder Engine
Two SU Carburetors
Est. 120 bhp at 3,200 rpm
4-Speed Manual Transmission
Semi-Elliptic Leaf Spring Underslung Suspension
4-Wheel Drum Brakes

*Desirable and innovative, low-chassis Invicta Tourer
*Engine rebuild to Sanction III specs by David Ayre
*Neve Bros Close-ratio gearbox and rear axle rebuild by Tim Payne
*Overall preparation carried out by Guy Walker
*Offered with FIA Paperwork and large history file

THE S-TYPE 'LOW-CHASSIS' INVICTA

Launched at the 1930 Motor Show at Olympia, the S-type Invicta featured an all new 'under-slung' chassis that achieved a much lower center of gravity by positioning the axles above the frame rails instead of below as was normal practice at the time. Just about the only thing the S-type Invicta had in common with its contemporary stablemates was the 4½-liter Meadows engine, which was also used for the 'NLC' and 'A' models. Like most low-revving engines it delivered ample torque in the lower and middle speed ranges. Indeed, the Invicta can be throttled down to 6-8mph in top gear - despite its relatively high 3.6:1 final drive ratio - and will then accelerate rapidly and without complaint when the accelerator is depressed. Contemporary motoring press reports typically recorded acceleration figures of 10-70mph in 19 seconds, which speaks volumes for the Invicta's legendary flexibility.

The popular '100mph Invicta' tag notwithstanding, standard cars had a – still impressive – top speed of around 95mph with more to come in racing trim. However, it must be stressed that the S-type Invicta was primarily a very fast but comfortable high-speed touring car, and though it met with moderate success in racing in the hands of private owners in the early 1930s, its greatest appeal lies in an ability to cover a substantial mileage at high average speeds with no strain, either to driver or the machinery.

Over 70 years after the last example left the Cobham factory, approximately 68 of the 75-or-so original S-types are known to survive and most are in excellent order, testifying to the fact that they have always been regarded as high-quality motor cars.

THE MOTORCAR OFFERED

The Low-Chassis Invicta offered here is what might best be termed a 'continuation' car, built in the mid-2000s by The Invicta Car Company, whose proprietor, Mike Bristow, had acquired the brand in 1980. Chassis number S314B is the third of these 'tool-room-copy' Invicta continuation cars, the first of which was built in the late 1980s. 'S314B' incorporates a number of original period 1930s Invicta components including the engine and gearbox, steering box, drop arm, drag link, steering rod, propeller shaft, front axle, stub axles and hubs, front brake assemblies, rear axle casing, drive shafts and hubs, and the rear brake assemblies, all which is carefully laid out in documentation compiled by The Invicta Car Company located in the car's history file.

These restored components have been built into a new S-Type chassis constructed of similar materials and to the exact dimensions of an original example. Where required, new components were manufactured as exact replicas of the Invicta originals, including the steering wheel, steering wheel boss, dashboard, etc. The year 1936 was chosen as the stated date of manufacture as the last 4½-Liter Invictas were assembled in 1935 and all original parts used cannot, therefore, be any later than this.
Construction of 'S314B' took almost four years to complete and the car was first registered in the UK in of May 2010 as a '1936 Invicta S Type'. The Invicta Car Club accepts these modern continuations, which have been validated by the Club and accepted by the UK's relevant authority, the DVLA.

'S314B' has been used on many driving events and tours by its previous German owner. He would enter the car and tour on various 'retrospective' motoring events including the 2012 'Winter Marathon'. During this time, the Invicta obtained German TüV paperwork.

Today this sporting Invicta is offered from the estate of a true motorcar enthusiast and Gentleman through and through, who understood and appreciated excellently engineered cars with outstanding handling capabilities. With a stable of excellent, well-sorted automobiles such as a W.O. Bentley and 300SL Gullwing, the Invicta was exactly what he and other sophisticated motoring enthusiasts wants in a car, innovative engineering, excellent handling and performance, and pleasing aesthetics.

A close inspection of this Invicta reveals that the restoration and construction of this fine motorcar was done to a very high standard and period-correct specifications. Noted Invicta and Bentley specialist David Ayre performed a full engine rebuild on the car, while Tim Payne rebuild the rear axle and fitted a Neve Bros close-ration transmission. The car has been exercised on several classic car tours and rallies, and a recent test drive by a Bonhams specialist gave the impression of a well-sorted, dialed-in car. Finished in a fitting dark blue exterior color over a caramel-colored interior, the Invicta is fitted with black canvas weather equipment and offered with FIA paperwork. Here is a rare opportunity to acquire a modern-day Invicta S-Type continuation car, built by the inheritor of the original company and accepted by the Invicta Car Club and many tours and rallies across the Globe.