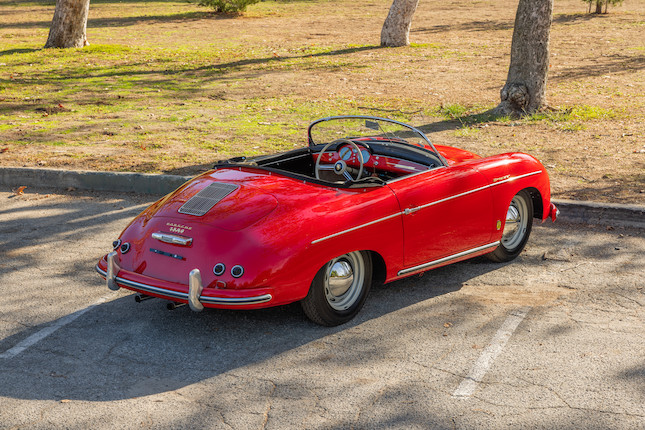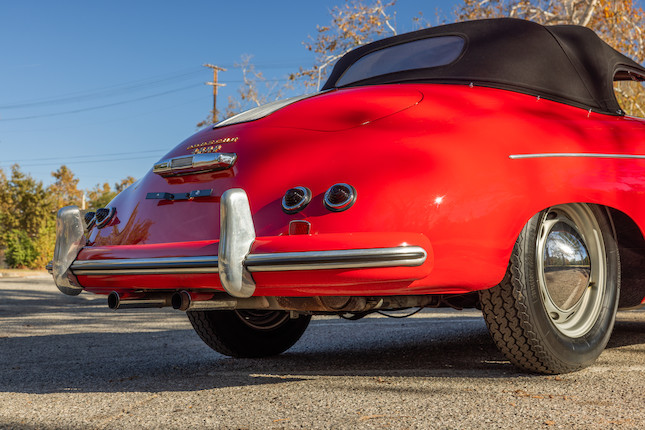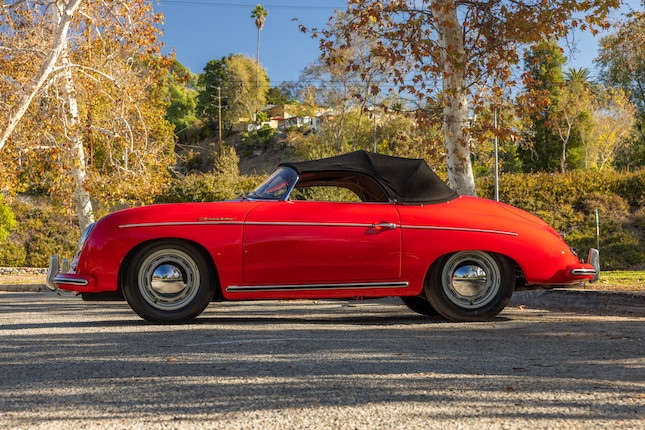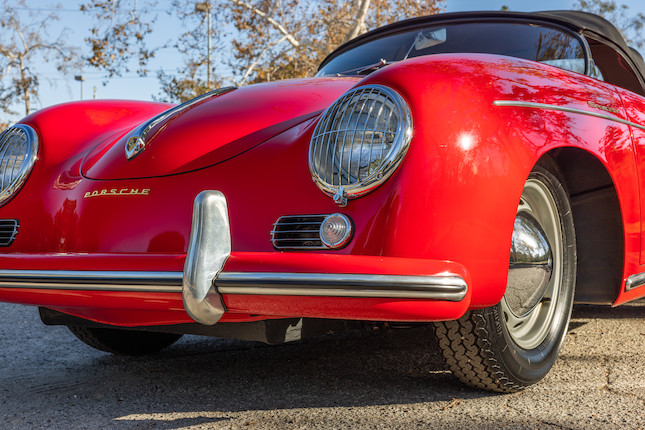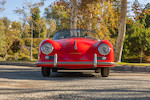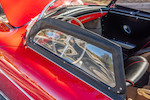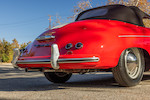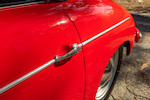 1956 Porsche 356 Pre-A 1500 Super Speedster
27 January 2023, 10:00 MST
Scottsdale, The Westin Kierland Resort & Spa
Sold for US$362,500 inc. premium
Own a similar item?
Submit your item online for a free auction estimate.
How to sell
Looking for a similar item?
Our Collector Cars specialists can help you find a similar item at an auction or via a private sale.
Find your local specialist
Ask about this lot
Rupert Banner
VP, Business Development
Aleksandra Krypciak
Title Clerk & Senior Sale Coordinator
1956 Porsche 356 Pre-A 1500 Super Speedster
Coachwork by by Reutter
Chassis no. 80903
Engine no. P41415
1,488cc OHV Flat 4-Cylinder Engine
2 Twin-choke Carburetors
70bhp at 5,000rpm
4-Speed Manual Transaxle
4-Wheel Independent Suspension
4-Wheel Hydraulic Drum Brakes

*Subject of an exhaustively detailed, high-end restoration
*Matching-numbers engine per COA
*One of only 1,234 Pre-A Speedsters made
*Believed to be fifth-from-last Pre-A Speedster built
*True early Speedster royalty

THE 356 SPEEDSTER

Distinguished by their severely chopped windshields, stripped-out interiors, and emergency-only rain tops, 356 Speedsters were special, limited production machines, even by the vaunted standards of early Porsche sports cars.

Targeted directly at America's warm west coast, only 3,676 Speedsters were made during a brief 1955-1958 run, a figure representing just a small fraction of total 356 production during the time. Low production figures were a result of the labor-intensive, hand-built nature of Speedsters, and demand for the car–particularly among the glamorous sunbelt set–was high. The actors, producers, racers, beach queens, canyon carvers, and Mulholland maurauders that drove Speedsters only added to the car's mystique.

In many ways the purest of all Porsches, the 356 Speedster harkened back to the very first of its kind, the Gmünd-built prototype 356-001 first shown at the 1948 Swiss Grand Prix. Like that legendary progenitor of all Porsches, the Speedster radiates a minimalist, function-first aesthetic, its beauty defined by its ruthless fitness for purpose.

A driver's tool first, a thing of unparalleled beauty second, and above all, one of the greatest Porsches of all-time, the 356 Speedster will always hold a special place in the history of fine European sports cars.

THE MOTORCAR OFFERED

The subject of a detailed, sympathetic, and highly accurate restoration to factory specifications, this beautiful Speedster is particularly desirable for its early, Pre-356 A specification, correct, unique details of which include 16", ten-hole wheels with factory-style hub caps.

Note also the Karosserie Reutter badges, identifying the Speedster's coachbuilt bodywork–by the 1970's, Reuter was part of Porsche, having changed its name to Recaro and its business to the manufacture of rather excellent seats. Body color bumpers and headlight gravel screens are just a few more of the car's countless charming details.

One highlight of Pre-A 356 specification is the wonderfully spartan, two-gauge instrument cluster seen here. Simplified, lightweight Speedster seats are also present, and though fiddly, questionably effective, and cramped, the correct, factory-style emergency rain top is present. Despite their awkward functionality, these tops only complement the Speedster's gorgeous lines when up, and this car includes rare factory side curtain windows as well.

Perhaps second in desirability only to the ultra-rare Carrera Speedster with its exotic, race-bred, quad-cam Fuhrmann engine, 1500 Supers, such as the example at hand, offer 70 hp from their air-cooled boxer fours, up 10 hp from normal, non-Super spec cars. The engine fitted here has been with the car since it left the factory nearly 70 years ago, as has the 4-speed transaxle through which it drives the rear wheels.

As with the rest of the car, the engine bay shows highly accurate detailing, including factory style fan shroud, carburetors, coil, canister type oil filter, 6V generator, decals, and more. Up front, in the small luggage space beneath the bonnet, rests a factory style tool kit, jack, and wooden stick–the latter is for dipping into the fuel tank for a level reading, as Pre-A 356's were not equipped with a fuel gauge.

Sale includes a Porsche Certificate of Authenticity, both of which can be used to confirm the originality of the car's engine.