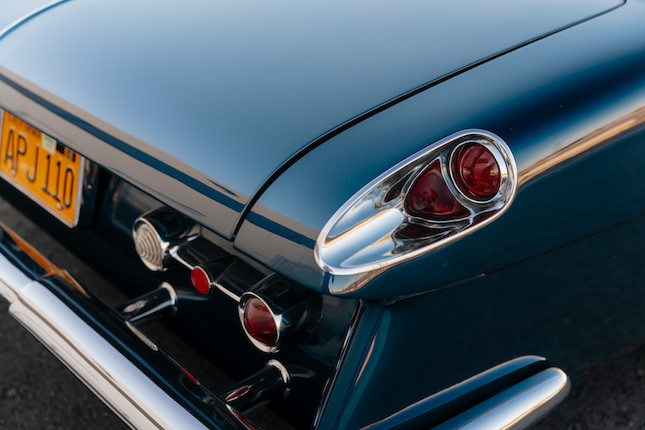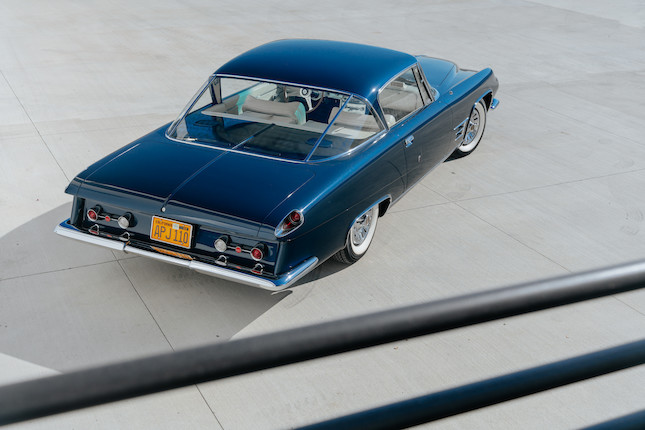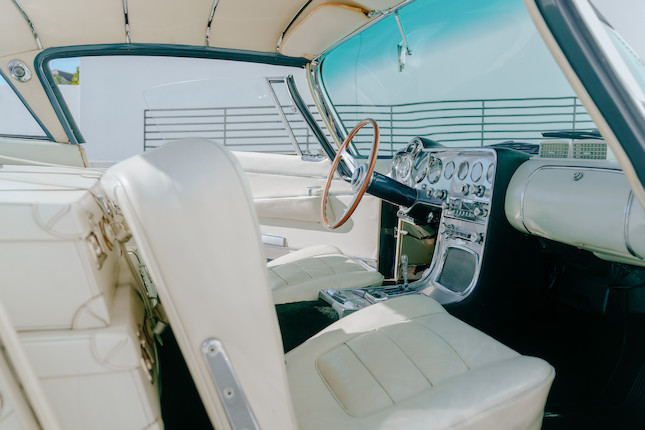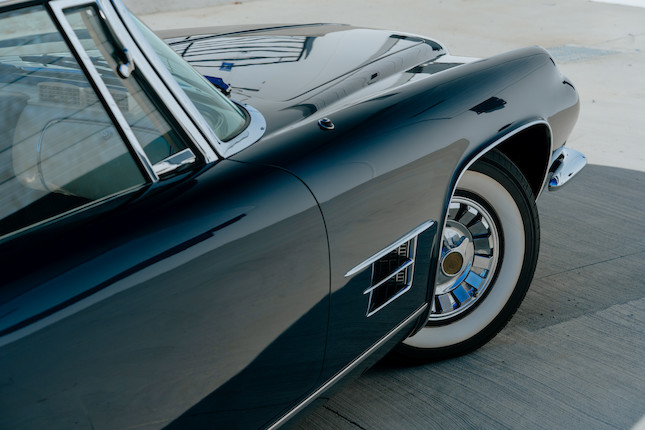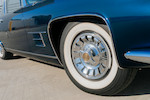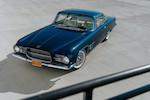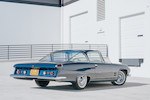 1962 Chrysler Ghia L6.4
Chassis no. 0305
383ci OHV Hemi V8 Engine
Single Carter 4-Barrel Carburetor
335bhp at 4,600rpm
3-Speed TorqueFlite Automatic Transmission
Independent Front Suspension - Live Rear Axle
4-Wheel Hydraulic Drum Brakes

*Offered from the John White Ramshead Collection
*Prominently displayed at the 1962 New York Auto Show
*Stunning, well-preserved example with less than 33,000 original miles recorded
*Believed to be the most original of the just 17 known L6.4 examples left
*Equipped with factory fitted luggage and many custom details

THE GHIA L6.4

Back in the late Forties and early Fifties Gene Casaroll, the force behind the Dual-Ghia and its Ghia L6.4 successor, was on a roll. His Automobile Shippers company had a 100+ fleet of semi-trailers on the road hauling new cars from factories to dealers who could sell just about everyone as soon as it arrived. Gene wasn't one to bask in the success, however, and kept looking for new challenges. During the war he conceived of a dual-engined lowboy transporter for tanks and other heavy weapons. He established Dual Motors to build them but found demand for tank-haulers dropped off quickly after V-E Day.

He went to Indy with his Automobile Shippers Specials, employing veteran drivers Henry Banks, George Lynch, Bill Schindler, Carl Forberg, Walt Faulkner, Troy Ruttman and Duane Carter. He dabbled with the idea of putting Frank Kurtis's two-seat sports car into serious production. Then he spotted the Dodge "Firearrow" dream cars.

A series of four different designs, the Firearrows' coachwork was designed and built in Italy by Luigi Segre's Carrozzeria Ghia. The fourth Firearrow, with accommodations for four, particularly appealed to Casaroll and he and Paul Farago negotiated rights to the design and supply of chassis and engines with Chrysler. After redesigning the car for more room, chassis rigidity and weight distribution (which included moving the Dodge engine a full foot back in the chassis), the first cars, now called the Dual-Ghia, began to arrive in mid-1956.

It was an immediate hit and Casaroll resolved to allow only the most select clientele to buy one. Every order crossed his desk and was summarily accepted or rejected based on Casaroll's subjective criteria, one of which was geographic and social distribution. When the Rat Pack seized upon the Dual-Ghia as their ride of choice Casaroll accepted orders from Frank Sinatra, Eddie Fisher and Peter Lawford. Sammy Davis, Jr. and Dean Martin didn't make the cut, but Gary Morton, Lucille Ball's husband who frequented the Rat Pack's periphery, did. Other owners included Eddie Fisher and Glenn Ford.

The Dual-Ghia's days were numbered by Chrysler's decision to adopt unit-body construction beginning in 1960. After experimenting with several prototype designs by Ghia on full size working chassis, Gene Casaroll turned his attention back to Automobile Shippers to deal with an industry-wide slowdown in sales (and therefore shipments) and labor problems. Paul Farago continued, however, with a new design which would be only a Ghia, the L6.4 signifying the metric displacement of the big 383 cubic inch, 335hp Chrysler V-8 under the hood.

A dramatically shaped 2+2 hardtop with a huge three-piece rear window, oval grille housing fine eggcrate screening and "sugar scoop" rear lights let into the tops of the finless-rear fenders, the Ghia L6.4 was every bit the exclusive, distinctive, fast, luxurious automobile. It was a suitable successor to the Dual-Ghia. Introduced at the Paris show in late 1960, the Ghia L6.4 appealed to the same clientele and quickly replaced the older Dual-Ghias in the Sinatra garage. A pair of them joined the Lucille Ball-Gary Morton family.

THE MOTORCAR OFFERED

This spectacular 1962 Ghia L6.4 has been a cornerstone of Mr. John White's fantastic Ramshead Collection, and boasts unparalleled originality, true show car pedigree, and of course rarity like few other cars. This very car was displayed brand-new at the New York Auto Show held at the New York Coliseum, and a lovely photo exists of the L6.4 there on display, with onlookers admiring the rare and dazzling custom Ghia designed and build car. A Mr. Berman of Allentown, Pennsylvania would later become the car's first owner, paying the staggering price tag of $13,000 equaling the price of nearly three Cadillacs at the time. Mr. Berman would acquire other coachbuild cars but kept this L6.4 for more than four decades, while preserving it in its original condition and adding just about 25,000 miles to the odometer. Noted classic car collector and dealer Michael Schudroff of Greenwich, Connecticut, would acquire the Ghia L6.4 from Mr. Berman in the early 2000s. Understanding and admiring just how original and well-preserved the rare automobile was, Mr. Schudroff continued to diligently preserve the time-capsule like Ghia. In 2009, as Mr. Schudroff was selling a large part of his incredible collection, the L6.4 was sold for just the second time since new, at which time it was described as the most original of its kind, still having its original tires fitted and just 27,864 miles recorded on the odometer from new. The car then joined John White's collection and has since been maintained in its outstandingly original condition. The L6.4 was invited and participated in the 2014 Pebble Beach Concours d'Elegance, where Mr. White also experienced a trouble-free run on the Tour d'Elegance.

Wherever you look at this stunning car you find incredible originality and just a subtle patina reflecting on this show car's 60 years of existence. The striking Metallic Blue paintwork is in incredible condition, as is the elaborate chrome and brightwork throughout. The original white interior shows just light signs of use, and the original factory 4-piece fitted luggage set remains in situ behind the front seats. All in all, this car is very much a work of art when you study the details inside and out, for example the scroll-type hinges, quilted hood and trunk liners, enormous glass greenhouse, and the delicate spline that runs the length of the car. Fully made by hand, the quality of the craftmanship at Carrozzeria Ghia shines through now six decades later. The history file accompanying the sale of the car contains many articles written about this very car, archival images from when the car was newly assembled at Ghia in Italy and displayed at the New York Auto show, as well as other period paraphernalia.

The Ghia L6.4 was really the swansong for bespoke, coachbuild automobiles. By the mid-1960s, due to the extreme cost, logistical difficulty of flying the platforms across the pond to have them clothed by the Italian coachbuilders and increasing corporate bureaucracy, fewer and fewer of these bespoke luxury cars would be made. Of the 26 L6.4 examples made, just 17 are known to exist, many of which have been fully restored. This very example must be the most original example left and boasts incredible originality inside and out thanks to its sheltered existence while cared for by 3 noted custodians since new. Today just 31,817 miles are recorded on the odometer of this treasured and celebrated show car from new.