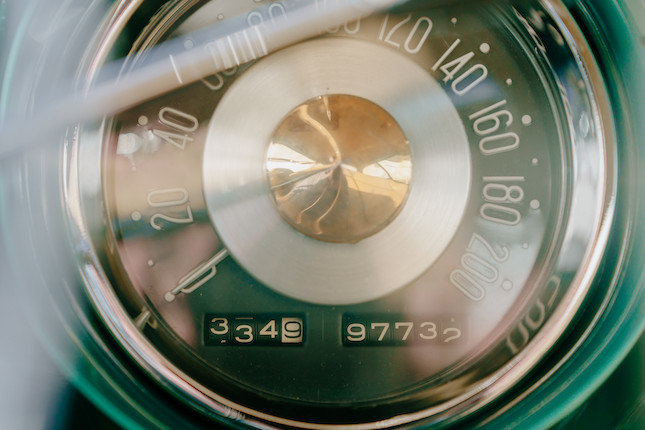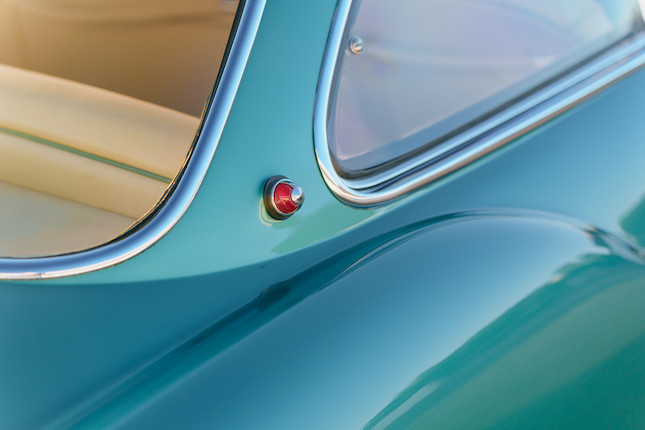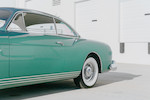 1954 Chrysler Ghia GS-1 Coupe
27 January 2023, 10:00 MST
Scottsdale, The Westin Kierland Resort & Spa
Sold for US$802,500 inc. premium
Own a similar item?
Submit your item online for a free auction estimate.
How to sell
Looking for a similar item?
Our Collector Cars specialists can help you find a similar item at an auction or via a private sale.
Find your local specialist
Ask about this lot
Rupert Banner
VP, Business Development
Aleksandra Krypciak
Title Clerk & Senior Sale Coordinator
1954 Chrysler Ghia GS-1 Coupe
Design by Virgil Exner
Chassis no. 7253351
Engine no. C542-8-7653
331ci OHV FirePower Hemi V8 Engine
Single 4-Barrel Carburetor
Est 200bhp at 4,400rpm
PowerFlite Automatic Transmission
Front Independent Suspension – Live Rear Axle
4-Wheel Hydraulic Drum Brakes

*Offered from the John White Ramshead Collection
*Very rare and desirable Chrysler with outstanding Virgil Exner designed Ghia coachwork
*Triple Pebble Beach Concours d'Elegance entrant and award winner
*One of just 9 bespoke examples made, with just 5 known to exist today
*Exceptional Concours-level restoration performed by Hyannis restoration firm

CHRYSLER AND GHIA

The long and fruitful relationship between Chrysler Corporation and the storied Italian coachbuilder Ghia was launched in 1950 with the Plymouth XX-500 show car, an elegant, four-door fastback built on the chassis of a Plymouth P20. Over the next decade, Ghia would produce for Chrysler a string of more than two dozen "idea cars," the majority of which were masterful Italian executions of designs by the corporation's visionary design chief, Virgil Exner. This sharing of ideas and designs across the Atlantic resulted in cars that were not simply American or Italian, but truly international.

J.T. Keller, who moved from the president's office to the helm of the Chrysler board in 1950, had made a brilliant decision in choosing Ghia as a partner. The carrozzeria, founded in Turin in 1916 by Giacinto Ghia, had been highly regarded for the custom bodies it had designed and created on Alfa Romeo, Lancia, Fiat, Italia, and other chassis before World War II. Its specialty was in creating coachwork for both touring and coachwork, and its lightweight aluminum alloy sports car bodies were some of the most exciting designs of the prewar era.

Its factory destroyed in an Allied bombing raid, Ghia was working to get back on its feet when it produced its bespoke Plymouth and shipped it over to Detroit as a calling card. The coachbuilder had all of the talent that the Detroit automaker would require, and eager for work as it sought to recover from the wartime years, could produce Exner's designs at a tenth of the going price. At the time that Ghia created the XX-500, it was being run by stylist and manager Mario Felice Boano, who had hired Luigi Segre as his chief designer. (Boano would later leave Ghia for Fiat after a dispute with Segre about the degree of Chrysler's involvement in the company.)

Exner had been brought over from Studebaker by Chrysler boss K.T. Keller, who was anxious to jettison the dowdy, three-box designs that were holding the automaker back in the sales race. Exner had breathed excitement into the stolid South Bend brand with his acclaimed Studebaker Starlight Coupe of 1947; Keller was wagering that the designer could do the same for Chrysler.

Put in charge of Chrysler's advance styling studios, Exner assembled a small team that included numerous skilled modelers, as well as a handful of designers chosen from the corporation's art and color section. He also found a key ally in Paul Farago, the owner of a specialty sports car shop near Detroit, whose automotive expertise and fluency in Italian made him an ideal interpreter between Exner, Segre and Boano.

Chrysler had just leaped out in front in the simmering Detroit horsepower race with its new FirePower, a sensational Hemi-head, high-compression V-8, and badly needed some exciting new sheet metal to wrap around it. Exner's response was the K-310 of 1952, a breathtaking coupe that featured flush door handles, a spare tire outline on the trunk lid, a prominent vertical grille, recessed headlamps, fully radiused wheel openings that showed off the chromed wire wheels, and freestanding "gunsight" taillamps, details that would appear on later production cars. Standing just 59 inches high, it announced to the world that providing sufficient headroom for fedoras would no longer be a Chrysler styling priority.

Exner's team sent a 3/8-scale plaster model of the K-310 to Ghia, where the craftsmen hammered out the bodywork. Their pride was evident in their work – the welded body joints were finished without filler for a smooth surface, and the trim work and interior were done to the highest standard. This was the approach Ghia would follow with all of Exner's designs.

Unlike other "dream cars" from Detroit, Ghia's products were fully engineered automobiles, ones that could easily have been put into production, if the buyers showed enough interest. "As a result, they had to be compromised to a certain degree from what you normally would do with strictly a dream car," Exner told automotive journalist Michael Lamm in the early 1970s. "But two or three of them came very close to being built."

First a pair of Chrysler "Styling Specials," labeled "S.S." by Exner, made the jump from the designer's basement drawing board to the carrozzeria's factory. These were commissioned not by Chrysler directly, but by the corporation's export manager, Cecil Beaton "C.B." Thomas, and it was with these cars that the Exner-Ghia connection truly hit its stride.

At the urging of Thomas, Chrysler commissioned six Chrysler Ghia Specials, and permitted Ghia to build another 12 for its clients. These cars were virtually identical to the Thomas Special, with the exception of their one-piece windshields and slight changes in trim. The Ghia Specials were powered by the 180-hp FirePower V-8 and equipped with either a four-speed semiautomatic transmission with Fluid Torque Drive or the completely automatic two-speed PowerFlite that took its place late in the 1953 model year.

The Ghia Specials represented a renaissance of something that had virtually vanished before the war: the coachbuilt motorcar. By combining one of the hottest powertrains of its day, pulse-quickening styling, Old World craftsmanship, and limited production numbers, Chrysler and Ghia had jointly created something extraordinary for a handful of lucky owners.

THE MOTORCAR OFFERED

Presented here from the prominent Ramshead Collection is a stunningly well-restored and documented example of the rare and exclusive Chrysler GS-1, handmade by the capable craftsmen in 1954 at Carrozzeria Ghia. This very example has been shown at the glamourous Pebble Beach Concours d'Elegance no less than 3 times. The ownership history of this rare Chrysler Ghia is carefully documented from the moment it was acquired by the late Martin Swig; noted pioneering collector, luxury car dealer and co-founder of the California Mille. A car guy through-and-through, Mr. Swig really had an eye for special cars early on, long before car collecting became nearly as mainstream as it is today. He rightfully saw the potential in this GS-1 when he located it in Lorrez le Bocage, France in the 1980s. Mr. Swig purchased the car from the owner at the time, a Mr. Guido Bartolomeo, imported it to the US, and then sold it to Mr. Michael Pomerance of Cambridge, Massachusetts in 1988.

While in Pomerance' ownership, Hyannis restoration firm would carry out a multi-year, concours-level nut-and-bolt restoration. The GS-1 was finished in time for the 1995 Pebble Beach Concours d'Elegance where it would make its debut, finished in the same striking Turquoise over tan livery as seen on the car today. In 1997, the car was invited and shown at the Louis Vuitton Classic Concours at Rockefeller Center in New York City. The comprehensive history file accompanying the sale of the car includes many photos carefully labelled, pre, during and post restauration, as well as an inch-thick restoration report, neatly documenting the full restoration with invoices. Many articles and paraphernalia about the Ghia Specials can also be found.

With two more Pebble Beach showings under its belt since its 1995 debut, John White's GS-1 remains in remarkable condition. It has been kept as a Concours car since the excellent Hyannis restoration, serviced and maintained in the climate-controlled environment of the Ramshead Collection. The car was featured in Donald Osborne's stunning book 'Transatlantic Style – A Romance of Fins and Chrome' on an multi page feature. A rare car indeed; 1954 records show that just nine GS-1 Chrysler Ghia models were built, with just five known to exist today. With its striking Virgil Exner styled presence and powerful Hemi powerplant, this spectacular show car has international appeal like few others and is an absolutely head turner in any collection or on any Concours lawn.



Footnotes
◊ Special formalities are required to bid on this lot. Contact Client Services at +1 (323) 850 7500 or bids.us@bonhams.com at least 24 hours in advance of the auction for registration and bidding options.