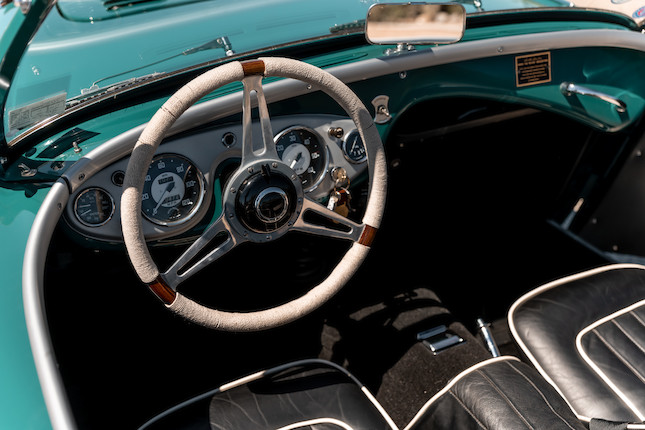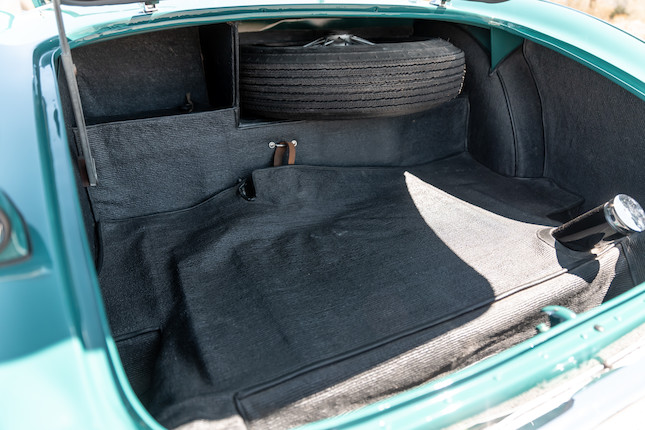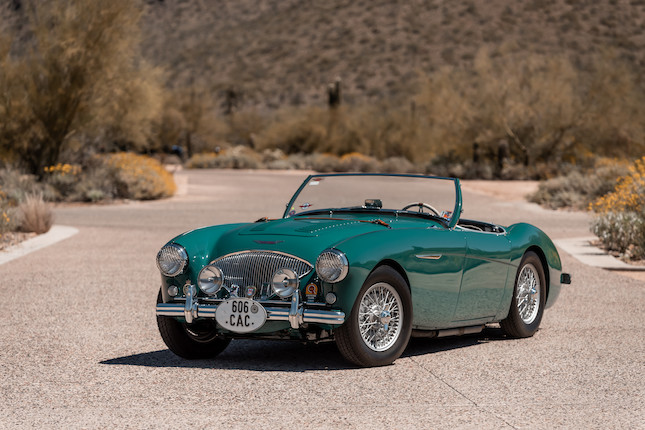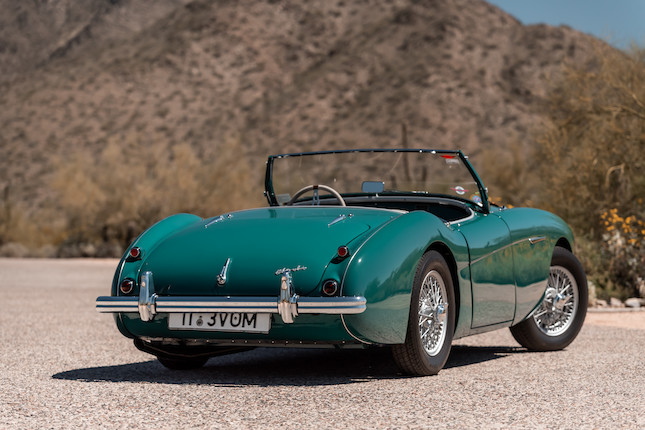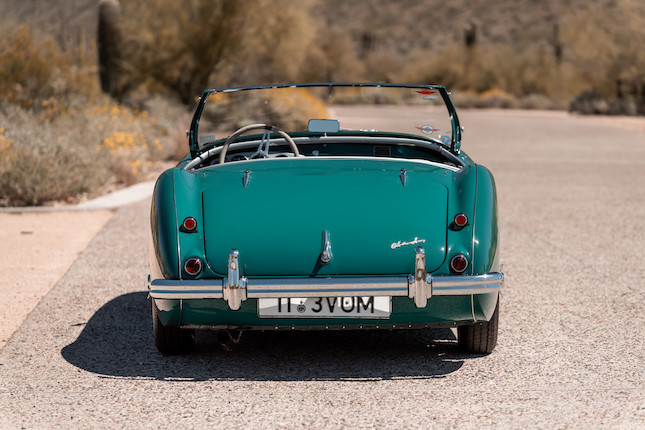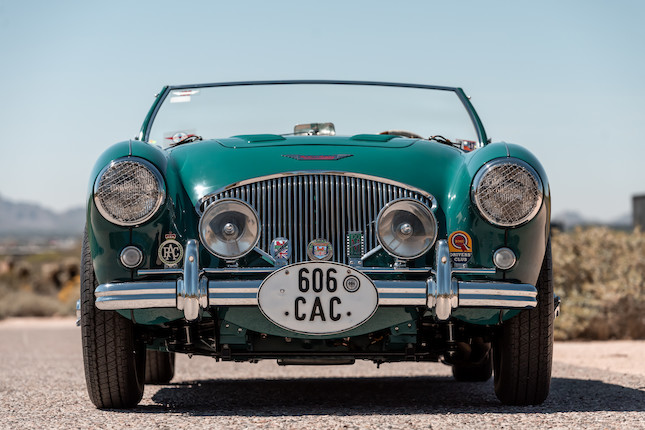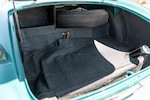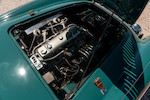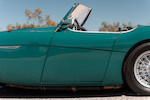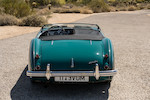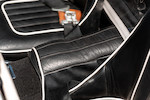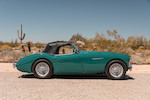 1955 Austin-Healey 100M Le Mans Conversion Roadster
Amended
27 January 2023, 10:00 MST
Scottsdale, The Westin Kierland Resort & Spa
Own a similar item?
Submit your item online for a free auction estimate.
How to sell
Looking for a similar item?
Our Collector Cars specialists can help you find a similar item at an auction or via a private sale.
Find your local specialist
Ask about this lot
Rupert Banner
VP, Business Development
Aleksandra Krypciak
Title Clerk & Senior Sale Coordinator
1955 Austin-Healey 100M Le Mans Conversion Roadster
Chassis no. BN1L/227550
2,660cc overhead valve inline four-cylinder engine
Dual 1¾" SU carburetors
100hp @4,300 rpm
4-speed gearbox with electric overdrive
Independent coil spring front suspension, live rear axle with quarter-elliptic leaf springs
Four-wheel drum brakes

*Beautifully presented 1950s classic
*Astoundingly smooth bodywork – flat and precise fit
*Le-Mans conversion
*Austin-Healey Concours Registry 'Gold Award' example

THE AUSTIN-HEALEY 100

Conceived as a means to reach the lucrative market in the United States, the Austin-Healey 100 combined Donald Healey's experience in effective chassis design with Austin's reliable drivelines. Introduced in 1952, just three years after Jaguar's ground-breaking XK 120, the A-H 100 combined the utilitarian long-stroke 4-cylinder Austin A90 engine with a Healey-designed underslung chassis frame and sleek full envelope bodywork designed by Gerry Coker with a cleverly designed articulated windshield that folded back, effective at both reducing frontal area and adding driving excitement.
It became a sensation, as it remains seventy years later.
Over 14,600 four-cylinder Austin-Healey 100s were built between 1953 and 1955. Most were the original 3-speed with overdrive BN1 models. About 80% of those built went to the U.S. where enthusiasts quickly realized their competition potential and took to the track, emulating the factory which entered a 2-car team in the 1953 Le Mans 24 Hours. Mildly modified, these cars finished in 12th and 14th overall, far and away the best finish by any production-based cars in the 60-car field.
The 1953 Le Mans success of the two Austin-Healey 100s as well as privateer racing successes in the U.S. led Austin-Healey to develop a "Le Mans Kit" consisting of larger 1¾" SU carburetors, a cold air box and high-lift camshaft that brought the 100's engine to 100 brake horsepower or 110 horsepower with high compression 8.1:1 pistons.
After introduction of the 1955 BN2 upgrade at chassis number 228047 with 4-speed gearbox, the Le Mans configuration, now identified as "100M" began to be supplied by the Longbridge and Warwick factories with a characteristic hood ("bonnet") with two rows of louvers following the hood edge in a vee pattern having 14 louvers at the front and a leather hood strap followed by six louvers at the rear.
The Le Mans Kit remained as a standard Austin-Healey parts package, part number P.280, and proved to be practical, cost-effective and equally applicable to both the BN1 and BN2 Austin-Healey 100s.

THE MOTORCAR OFFERED

Built on 12 August 1955, this is a very late BN1 Austin-Healey 100 built in the same month as the changeover to the BN2. Something like 10,000 BN1s had been built in the two years since the 100's introduction, and there was a great deal of experience by the factory, parts suppliers and thousands of enthusiastic owners, this late BN1 benefits from a series of upgrades and improvements over the model's life.
It was restored in the mid-1990s by Edrick Adams and earned an Austin-Healey Concours Registry Gold award in August of 1997. Additionally, it is accompanied by a British Motor Industry Heritage Trust certificate.
Originally Carmine Red, it is now finished in Spruce Green, one of the most rare of A-H 100 colors and also one of the most attractive. The black leather upholstery with composite material on non-wearing surfaces is piped in white and is matched by a black composite folding top. A twine-wrapped woodrim steering wheel is a highlight of the interior.
Its Le Mans Kit was added by an owner during its lifetime – as were all BN1 A-H 100s with the Le Mans Kit. The gearbox has been upgraded to the later BN2-spec 4-speed with overdrive. Also fitted with a badge bar, a pair of large driving lights, headlight stoneguards and silver painted wire wheels (including the spare), its bodywork is astoundingly smooth, flat and precisely fit.
Despite being restored a quarter century ago it is as crisp and sharp as a freshly restored Austin-Healey 100, showing appreciative and caring ownership and maintenance since it was restored.
Lay back the windshield, fire up the lusty Austin four and drive, show and enjoy one of the finest Austin-Healey 100 Le Mans conversions available, a prime example of the British (car) invasion, long before the Beatles hooked up in 1960 for the next British invasion (music.)

Saleroom notices
Please note, this vehicle is titled with chassis no. 227550.